Home Schooling doesn't have to happen at home!
Mid-Metro Academy is a Christian homeschool academy that offers academic, language, visual and performing arts, technology, and career-oriented classes to homeschooled students in grades 7 – 12. We meet in person in the former St. Mark's School building in St. Paul's charming Merriam Park neighborhood.
Welcome
From a foundation of Christian values, Mid-Metro Academy offers academic, language, visual and performing arts, and career-oriented classes to homeschooled students in grades 7 – 12, preparing them for success in undergraduate programs, careers, and life. Our homeschool academy classes meet in person one day per week. Our highly qualified, personable instructors have a passion for their field and for working with youth.
We're pleased to offer a one-of-a-kind PSEO program designed to meet the needs of homeschooling families. Cohort learning provides a supportive high school experience for college-ready juniors and seniors as they begin their college journey. We partner with North Central University, a fully accredited liberal arts university, to ease students into college in our safe, friendly, and nurturing environment.
For high school students who aren't ready for PSEO or don't see college in their future--or for those who want to get an early start in today's gig economy--we offer career-oriented classes in business, technology, art, and design. Our STEAM emphasis helps students build capabilities that will serve them well in the real world--like critical thinking, communication, problem-solving, and resilience.
2022-2023 Schedule: Classes begin Sept. 7, 2022, and end April 26, 2023. Fall semester runs for 14 weeks (Wednesdays; no class Thanksgiving week) or 15 consecutive weeks (Mondays). Spring semester begins Jan. 9, 2023, and runs for 15 weeks with a one-week spring break (week of Mar. 5).
Questions? Email [email protected]
Join Us This Year!
The 2022-2023 school year begins September 7, 2022, and--YES--we have room for you! Whether your student has already been taking classes with us or whether your family is brand new to MMA, we've got plenty of great options for you! Most of the traditional academic offerings--like science, math, English, and social studies--will be offered next school year at similar times to the current schedule, so check out our course schedule to get an idea of what's in store.
Beyond traditional classes, we offer many arts, technology, and career-oriented classes, some of which you won't find anywhere else. Students can let their creativity blossom in our creative arts classes, and/or they can foster their practical side in our tech and career-oriented courses. Keep watching the site for announcements about our new offerings for fall, and follow us on our Facebook page.
High school doesn't have to be one-size-fits-all. As a homeschooling family, you have the freedom to tailor your students' education to their skills, personality, aptitude, and interests. Whether your student is academically oriented or not so much--you'll find great options at Mid-Metro Academy.
"Start your side-hustle now!" is a great reason to take one or more of our career classes. After just one semester, students will be prepared to get hired as an employee or to enter the gig economy. They'll have what they need to start their own business as a bookkeeper, party entertainer, online media producer, or internet programmer. They can have their own small business--either in-person or web-based--while still in high school.
Registration for 2022-2023 classes is now open.
If you're not already a Mid-Metro Academy member, join now!
We're Closer Than You Think!
Mid-Metro Academy meets at St. Mark's School in St. Paul. Our easy-to-get-to location is at a convenient distance from most parts of the Twin Cities metro area. Our families come from the north, east, south, and west. We have free and easy parking options for our volunteers and for students who drive themselves. Our neighborhood--just north of the University of St. Thomas--is quiet, safe, and picturesque. It has an A+ rating from www.niche.com, which rates it as the fourth best neighborhood in St. Paul in which to raise a family.
Planning for High School and Beyond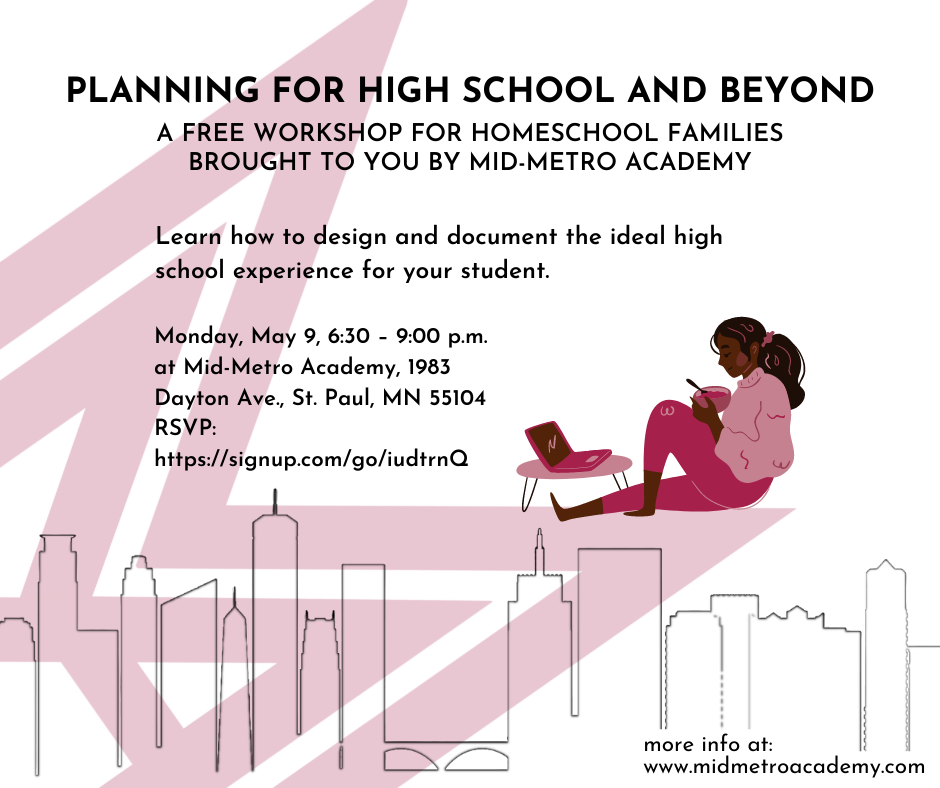 If you missed our free workshop, no worries! Here's a recap:
Homeschooling through high school gives your student a wide range of opportunities that may not be available to others. Mid-Metro Academy is here to help students pursue their unique goals and passions during and after high school.
Along with the opportunities of homeschooling come challenges. As a parent, you must make sure your students take the necessary courses so their diplomas are as meaningful as any other high school diploma. You need to prepare a high school transcript that colleges or other institutions will accept and that accurately reflects what your student has achieved through home, classroom, and other learning experiences.
Let us help you! Watch this site for more information and resources in the coming weeks--like this fillable transcript template courtesy of HSLDA. If you want one-on-one assistance, consider using the consulting services of veteran homeschooler Lisa Paschen. She can work with you to develop a four-year high school plan that takes into account your student's unique interests and goals. And she'll walk you through the ins and outs of transcripts.
Create Your Four-Year Plan
Design your student's ideal high school experience at Mid-Metro Academy. Begin by creating a four-year plan for your student. Use our helpful template. Remember, you set the graduation requirements for your own homeschool. However, most homeschooling families want to take into account the graduation requirements established by the Minnesota Department of Education.
Make the Most of Post-Secondary Enrollment Option
MMA's unique PSEO program is designed with homeschool families in mind. We provide a high school experience for students as they earn college credits in our fully in-person classes taught by engaging professors. For a quick overview of our program, click HERE. Get full details in this video presentation by MMA director Rebecca Hope. PSEO deadlines are looming, so get started on the registration process now.
Career & Business Classes for Secondary Students
High school shouldn't be one-size-fits-all. Your student can explore career options, learn a technical skill, and even start a business while still in high school. We have plenty of courses to meet a variety of interests and aptitudes.
College and/or Alternatives
Going straight from high school to college isn't necessarily the best option for everyone. Trade schools, certificate programs, international experiences, internships, and taking a gap year are all legitimate options and should be taken into consideration when developing your four-year plan.
Prepare Your Student to Thrive in the Gig Economy
What's the gig economy, and why should you make sure your student is ready to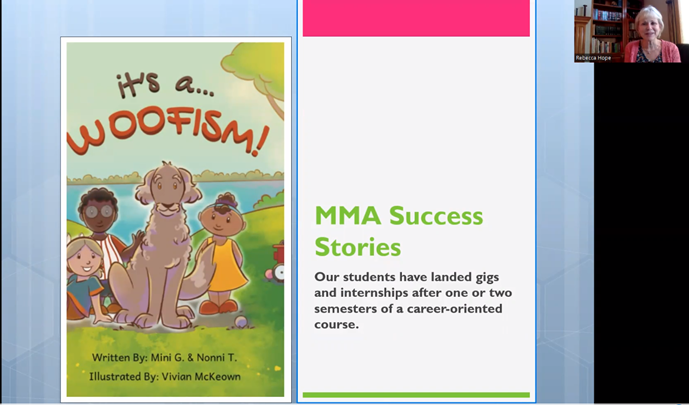 successfully participate in it? The gig economy is growing three times faster than traditional employment. It's quickly moving from a fringe segment of the U.S. job market to a mainstream option.
Gig employment offers significant benefits like
flexibility

excellent balance between work and personal life

impressive job satisfaction levels.
And it presents the potential for three-figure incomes for those who excel in their chosen specialty.
Whether your student intends to use gig work as a side hustle or as an end career goal, he or she can get started now. Mid-Metro Academy classes help students gain both the soft skills and technical skills they need to succeed in today's--and tomorrow's--gig economy.
For more information, watch this presentation by Mid-Metro Academy director Rebecca Hope.
We Offer the Best of Both Worlds in 2022-2023!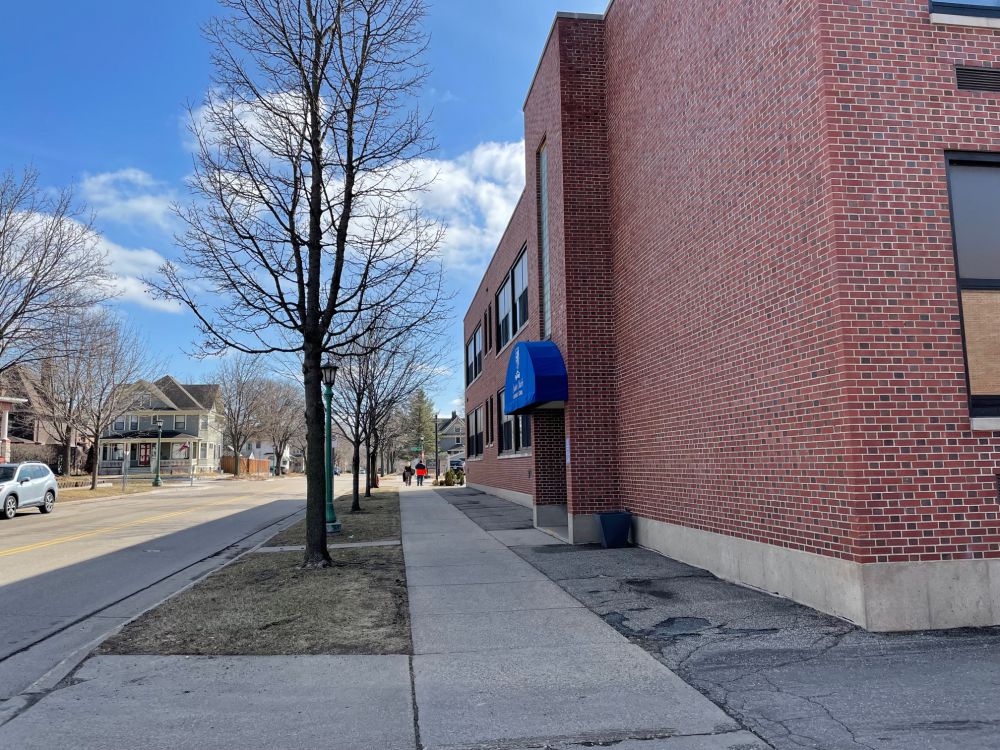 If you're looking for the best learning environment for your student for the 2022-2023 school year, you've come to the right place! We believe students learn best in a dynamic, interactive, in-person setting, so we're committed to meeting on-site at our wonderful St. Paul campus this fall--as we have this school year. Our classes meet in physical space—not cyberspace.
Since our classes meet once a week, students and families enjoy the flexibility and convenience of the hybrid/blended model that works so well with the homeschooling lifestyle. Our teachers use a flipped-classroom approach, which means that students access content at home through various media including video, textbooks, and handouts. Depending on the class, they'll have homework that helps them apply what they've accessed. When students come to class each week, they'll engage in social learning activities like discussions, group projects, simulations, and experiments plus get real-time feedback from their teacher. These kinds of experiences make learning stick—even as they build soft skills like teamwork, communication, and resilience.
Whether you're just getting started with homeschooling or have been doing it for years, our classes are a great option for the 2022-2023 school year. If you're considering joining us next year, attend our Open House and Spring Showcase on Tuesday evening, April 26. We're always excited to welcome new families!
Registration for fall and spring classes is now open.

You must be a member of Mid-Metro Academy to register for classes. Join today!
Donate by PayPal
Thanks for Your Donation!
Thanks to your generosity, we've paid for a special air purifier that uses ultraviolet light and HEPA filtration to remove viruses, bacteria, and fungi from the air. Mid-Metro Academy has other needs that you can support, such as new furniture for the 2022-2023 school year. Donations of any amount are always appreciated. Just click the "Donate" button to bless us via PayPal. Thank you!