Should we enroll in one day or two of Mid-Metro Academy classes?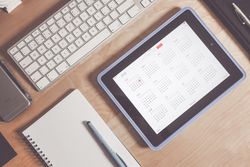 Mid-Metro Academy offers classes two days a week, Mondays and Friday, for students in grades 6 – 12. You may wonder whether your student should attend MMA on one day or two days. It's your decision! We have students who come just one day a week as well as those who come on both days.
An Efficient Approach to Class Time
Keep in mind that since most of our classes are 90 minutes long, your student is really getting two days' worth of instruction at each class meeting. Here's why: When calculating credits using Carnegie units, 40 to 60 minutes of time represents one class meeting, so a 90-minute class equates to two days in a traditional school classroom. If your student puts in another 2.5 hours of time at home working on that class, that's enough to earn one credit (assuming the student has mastered the subject matter to your satisfaction).
This extended class period is an important benefit of taking classes at MMA. Not every homeschool academy uses this approach, but we've found that it allows instructors to provide more in-depth exploration of topics. It also gives time for interactive learning activities like games, simulations, experiments, and role-plays that help solidify concepts for students—and make the classes fun!
Flexibility to Design Your Ideal School Year
Because we offer our classes a la carte—you pick and choose as many or as few as you want—you're in the driver's seat. There are many ways to incorporate Mid-Metro Academy classes into your school year.
Build your student's entire schedule around MMA classes

Round out the courses your student takes at home with a few MMA classes

Use MMA classes for enrichment or electives

Sign up for classes that can be counted as extra-curricular activities

Use MMA for academic courses you don't feel confident or comfortable teaching
Once-a-Week Convenience
Many families like coming once a week because it reduces commuting time. Whether you come just on Mondays or just on Fridays, you'll be able to choose from:
core academic,

elective,

arts,

technology,

and career-oriented classes.
For 2023-2024, we've interspersed technology and arts classes throughout both days' schedules.
Twice the Learning, Twice the Socialization
Students who come twice a week can take more than four courses. Besides core subjects, they can enjoy fun classes like:
swing dancing

acting

culinary arts

music ensembles or group guitar lesson

creative writing

book club

memory and magic.
They can sample careers by taking:
programming

website development

bookkeeping

graphic design

photography

online media creation and management.
Although all our classes emphasize peer-to-peer interaction, adding one or two of these extra classes can provide additional opportunities for students to build friendships and social skills.
Whether students come to Mid-Metro Academy one day or two each week, they'll find a superior learning experience in a supportive environment. Monday and/or Wednesday: MMA is here to support your homeschooling goals!
We know it can be hard to fit all our great classes into your student's schedule. Once you've decided, though, registration is easy.