Environmental Science Time Change
Environmental Science, a high school science elective taught by Victoria Sandberg, PhD, is now in a new time slot. It meets Wednesdays from 2:00 to 3:30 p.m. Register now!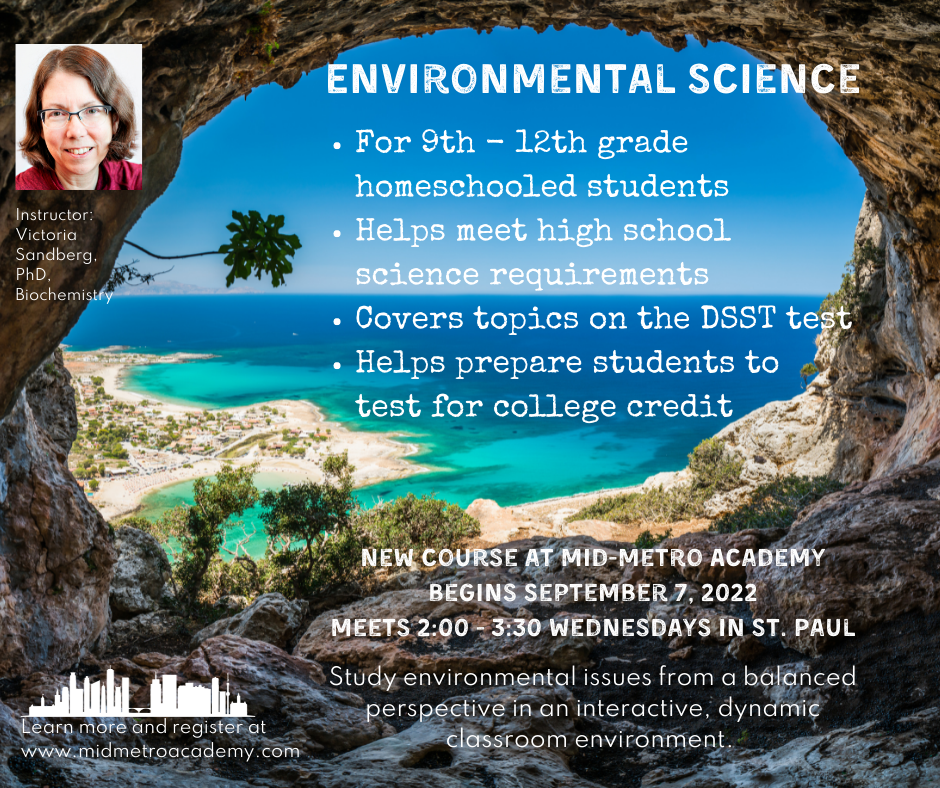 Group Guitar Lessons Needs 3 More Students
Chris Depoian, our talented guitar teacher, needs three more students in his Group Guitar Lessons class by August 14. Register today--and spread the word!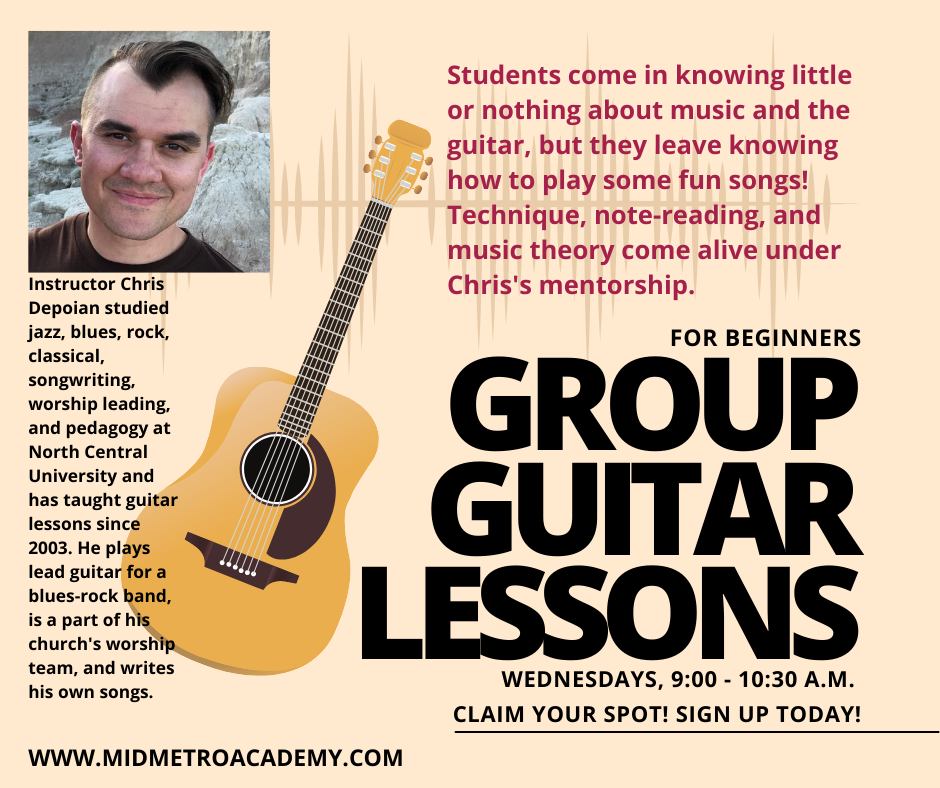 New Course: Language Arts Skills Workshop
English instructor Rebecca Hope has added a new class on Wednesdays: Language Arts Skills Workshop. This class is open to students in grades 6-8 who need extra help developing their reading, spelling, and writing skills. Students will receive tutoring on their writing projects. They'll also read novels suited to their age and reading ability so they can practice comprehension and fluency. Weekly spelling lessons will be included.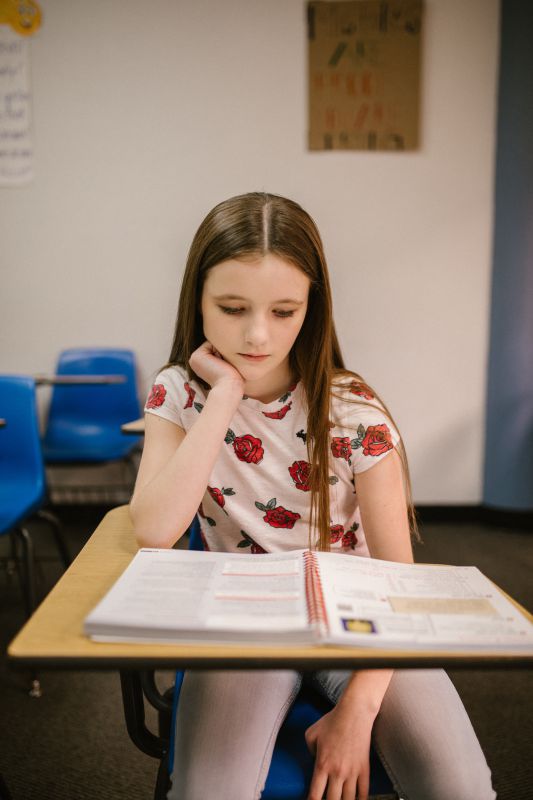 The course meets from 11:00 a.m. to noon on Wednesdays. Class size is limited to allow each student to receive individual help and tutoring from Mrs. Hope.
Mrs. Hope taught reading and language arts for all age levels with the Institute for Reading Development. She's looking forward to helping students who have fallen behind in language arts to catch up before they face the challenges of junior high and high school.
This class is the perfect way for parents to give their sixth graders a language arts boost before they start taking academic classes at Mid-Metro Academy. Register before all seats fill!
[The section of Writing with Confidence 1 that had previously been scheduled during the second period on Wednesdays has been canceled and replaced by this new course.]

Girls Need Tech, Too!
Learning how to use technology is a necessary part of every student's education in the twenty-first century. That's why MMA instructor Chris Paschen is offering "Microsoft Office and More" and "Intro to Computer Technology" on Mondays this year.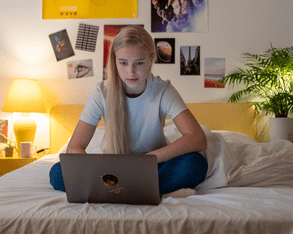 To be frank, we've had a lot of interest from boys for these courses, but we're wondering: Where are the girls? Girls need to know how to use computer technology just as much as boys do.
We know that it's hard to plan a student's schedule. There are so many great classes to choose from in each period. But we'll just throw this out there: If your daughter has first or second period free on Mondays, consider enrolling her in one of these classes.
Here's another option: If those classes don't work in your schedule, you can take one of Mr. Paschen's August workshops. These two-day workshops give students an overview of using technology so they'll be better prepared for their classes and for life. As an added bonus, parents can attend these workshops with their students. (Taking one of these workshops is required for anyone who registers for any of Mr. Paschen's technology classes, but it's open to others, too.)
Register now for the Monday or Wednesday Basic Computer Skills Workshop. Click HERE and scroll to the very bottom of the page.
Class Registration Is Open!
Our class registration window is closing! The last day to register without a late fee is August 15. Make sure your membership is paid, then follow the instructions to Register for Classes in Six Easy Steps. If you're not yet a member of Mid-Metro Academy, click on the "Join" button on the Upper Menu Bar to register. Once you have been accepted as a member and paid your membership fee, you will be able to register for classes!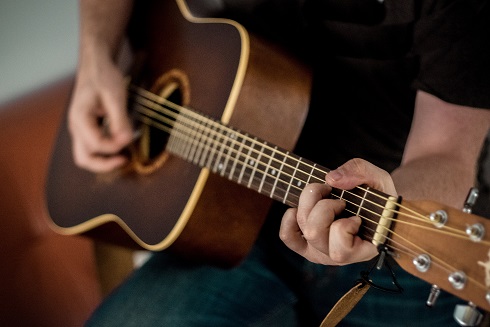 We have many resources to help you choose classes for the coming year. Course descriptions are posted on the Class Schedule page; just click on the name of the class, and the description will drop down. You can view short videos about most classes on our Videos page.
You can also view all our course offerings by Subject Area. And you can see a list of Career-Oriented Classes. Get a recap of our Planning for High School and Beyond workshop HERE.
Our instructors are happy to respond to individual questions. Members can contact them at their own email addresses, which you can find by clicking their names on our Instructors page.
Even after the August 15 deadline, you can register for open classes, but you'll pay a late fee. New students will be accepted until the second week of classes (with the instructor's approval after classes begin).
Gap Year Courses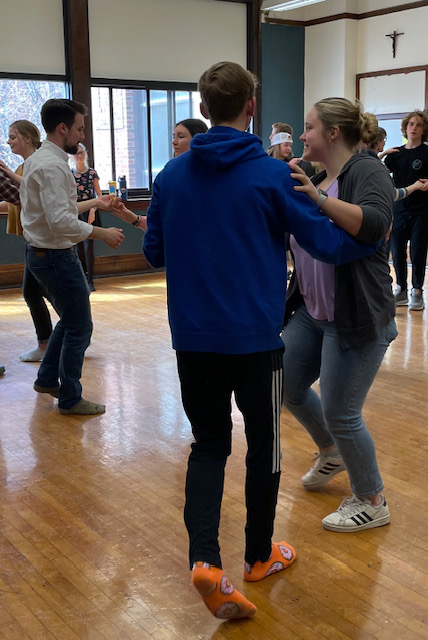 Some Mid-Metro Academy classes are open to Gap Year students. Students who graduated in 2022 but who haven't moved on to full-time education elsewhere are able to take certain courses at MMA as "grade 13" students.
This gives you the chance to try things that you didn't have time for during your high school years.
For example, here are some of the things you can learn:
computer programming

magic--and become a party entertainer

bookkeeping

how to craft stained glass creations and sell them on Etsy

swing dancing

photography

graphic design
And much more! Click HERE to see a list of courses open to gap year students.
PSEO Update
Mid-Metro Academy's PSEO program is currently suspended. Follow this space for updates about 2023-2024 PSEO at Mid-Metro Academy.