Career Exploration Instructor Change
Career Exploration, a one-semester course which meets on Mondays from 2:00 - 3:30 beginning in January, will be taught by Victoria Sandberg, Ph.D.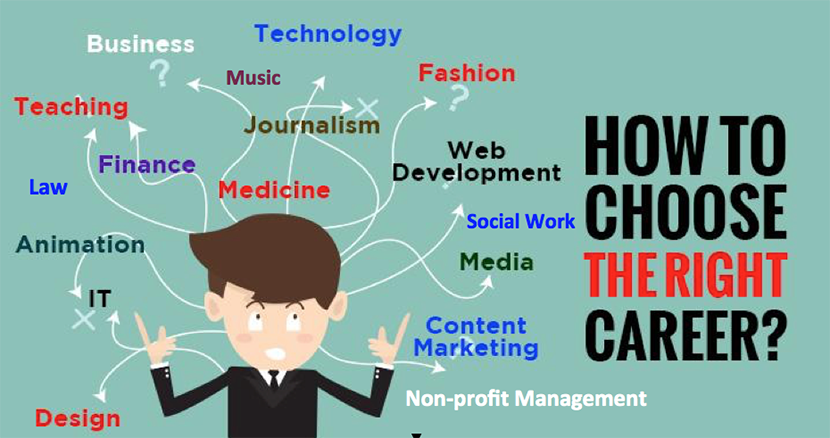 In this spring semester class, students will use study skills, information literacy skills, and self-reflection to point them toward a rewarding career path. The main objective of this class is to set students up for success as life-long learners and steer them toward a career path that might suit their interests, strengths, and values. There is no prerequisite for this class, but it makes a great follow-up course for Study Skills, which is meeting during the same time slot this fall.
Find out more about this class and meet Dr. Sandberg at our Fall Open House on November 29. To claim your seat in this class, register now!
Group Guitar Lessons Accepting New Students for Spring
Chris Depoian, our talented guitar teacher, is accepting additional students in his Group Guitar Lessons class for spring semester. Class begins on January 11 and meets from 9:00 - 10:30 on Wednesdays. Register today--and spread the word!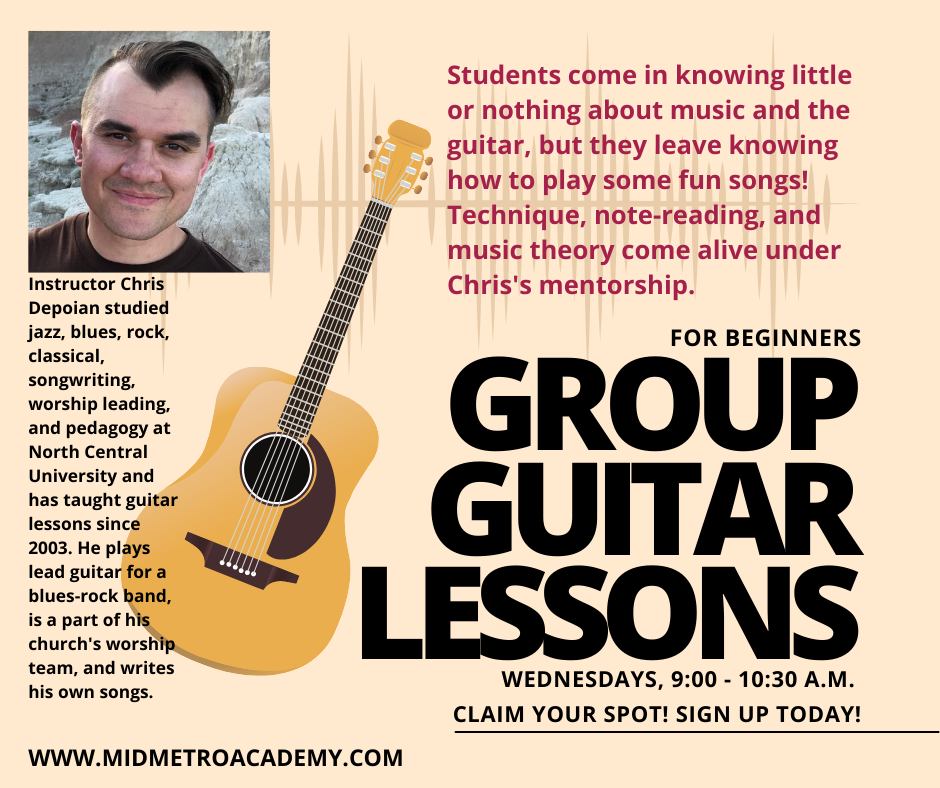 New Course: Language Arts Skills Workshop
English instructor Rebecca Hope will be continuing Language Arts Skills Workshop during second period on Wednesdays. This class is open to students in grades 6-8 who need extra help developing their reading, spelling, and writing skills. Students will receive tutoring on their writing projects. They'll also read novels suited to their age and reading ability so they can practice comprehension and fluency. Weekly spelling lessons will be included.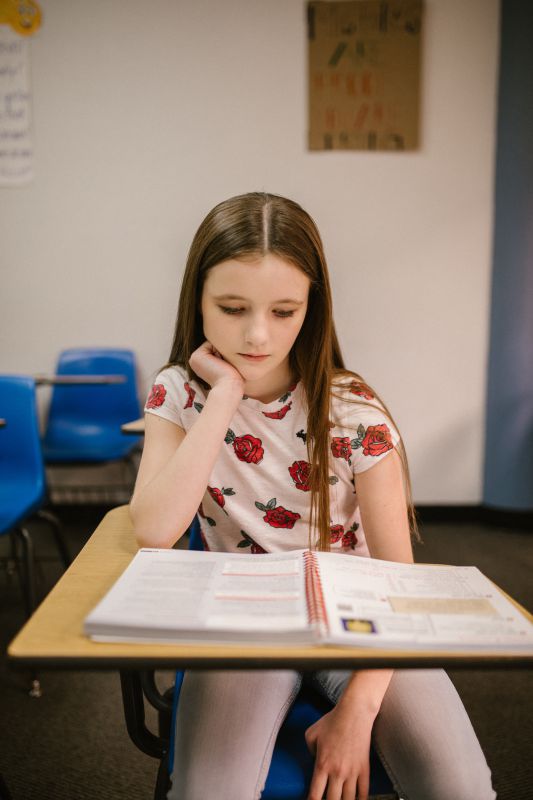 The course meets from 11:00 a.m. to noon on Wednesdays. Class size is limited to allow each student to receive individual help and tutoring from Mrs. Hope.
Mrs. Hope taught reading and language arts for all age levels with the Institute for Reading Development. She's looking forward to helping students who have fallen behind in language arts to catch up before they face the challenges of junior high and high school.
This class is the perfect way for parents to give their sixth graders a language arts boost before they start taking academic classes at Mid-Metro Academy. Register for spring before all seats fill!

Online Media Production: A Perfect Tech Opportunity for Girls
Learning how to use technology is a necessary part of every student's education in the twenty-first century. A great way for students to gain practical experience in the world of technology is to take MMA instructor Chris Paschen's spring-semester course Online Media Production and Management, which meets from 2:00 - 3:30 on Mondays beginning January 9, 2023.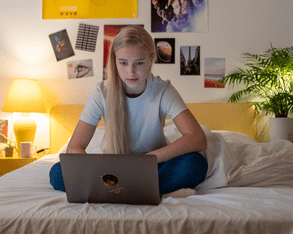 To be frank, we've had a lot of interest from boys for Mr. Paschen's tech courses, but we're wondering: Where are the girls? Girls have a great future in technology, too. And this class lets those who have a creative flair learn how to express themselves professionally online.
We know that it's hard to plan a student's schedule. There are so many great classes to choose from in each period. But we'll just throw this out there: If your daughter has fourth period free on Mondays, consider enrolling her in this terrific class.
Want to learn more? Attend our Fall Showcase and Open House on Tuesday evening, November 29, from 6:00 - 8:30 p.m. You can talk to Mr. Paschen about the class and whether it's a good fit for your daughter.
Class Registration Is Open!
Registration for spring semester classes is open. The last day to register and pay without a late fee is January 2, 2023. Spring semester begins January 9 for Monday classes and January 11 for Wednesday classes.

Make sure your membership is paid, then follow the instructions to Register for Classes in Six Easy Steps.

If you're not yet a member of Mid-Metro Academy, click on the "Join" button on the Upper Menu Bar to register. Once you have been accepted as a member and paid your membership fee, you will be able to register for classes!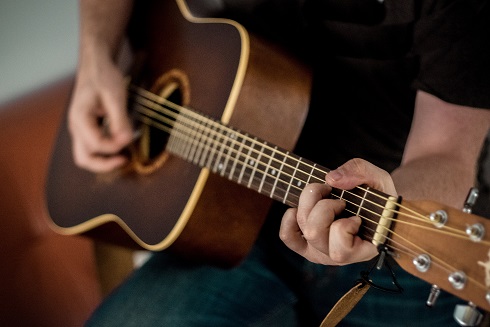 We have many resources to help you choose classes for the coming year. Course descriptions are posted on the Class Schedule page; just click on the name of the class, and the description will drop down. You can view short videos about most classes on our Videos page.
You can also view all our course offerings by Subject Area. And you can see a list of Career-Oriented Classes. Get a recap of our Planning for High School and Beyond workshop HERE.
Our instructors are happy to respond to individual questions. Members can contact them at their own email addresses, which you can find by clicking their names on our Instructors page.
Even after the January 2 deadline, you can register for open classes, but you'll pay a $25 late fee per class. New students will be accepted until the second week of classes (with the instructor's approval after classes begin).
Register Now for Remember the Room!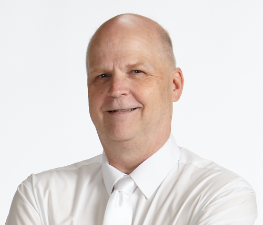 Bob Miller, who's teaching our spring semester Memory & Magic class, is holding a seminar for teens and parents on December 5 from 6:00 to 8:00 p.m. If you've attended one of our recent Open Houses, you've probably seen Bob rattle off the names of 40 to 50 people he's just met.
Many parents have expressed interest in learning the memory techniques that students will learn in Memory & Magic--but the class isn't open to adults. But don't worry! At this two-hour workshop, you'll learn the basics of associating names with faces. You'll learn how to hold dozens of names in your short-term memory so you can recall the names of everyone you met at a business or social event.
Attendees will also receive a digital copy of Bob's Name Dictionary, which contains thousands of popular names translated into memorable visual images. Translating names into images is part of Bob's Three step process: Look! Listen! Link!
Register now to attend this seminar, which costs $25/person ($45/two people from the same household). The event is open to non-members of MMA as well. To register, email Bob Miller at [email protected].

PSEO Update
Mid-Metro Academy's PSEO program is currently suspended. Follow this space for updates about 2023-2024 PSEO at Mid-Metro Academy.