Language Arts Skills Workshop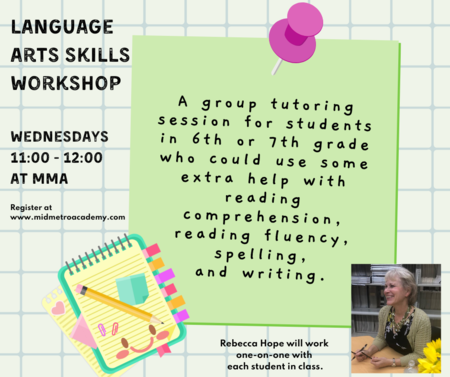 PERFECT FOR SIXTH-GRADERS!
Does your sixth-to-eighth-grade student need extra help with language arts skills like reading, spelling, and writing? In this weekly skills workshop, teacher Rebecca Hope will provide individual tutoring for student writing projects.
Mrs. Hope has taught writing classes at Christian schools and homeschool co-ops for decades. She uses the acclaimed Institute for Excellence in Writing method. In addition, she taught reading development classes for five years for the Institute of Reading Development. She is a skilled instructor who will help bring out your student's potential wherever he or she is at right now!
In addition to one-on-one tutoring, she will work with students on reading comprehension, reading fluency, and spelling skills. Students may be assigned novels or sections of novels to read, which will be used for comprehension and fluency training. Parents may be asked to administer and grade weekly spelling tests. Students should plan about three hours per week to complete the assigned reading and skills practice.
Wednesday, 2nd Period (10:30 – 12:00)