Act Your Own Adventure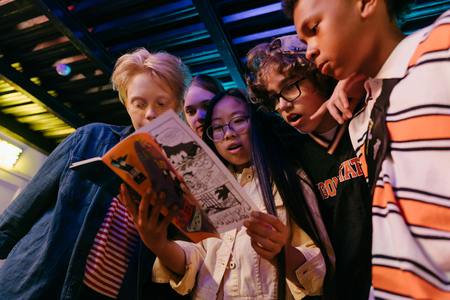 Note: This class builds on Acting: Improv but is open to all students with any (or no) previous acting experience or instruction. Students who are interested in acting, teamwork, and creativity--including writing and storytelling--are encouraged to join.
Students will learn about the structure of drama, will practice scene-building and character development, and will participate in a variety of creative exercises to improve their acting skills.
Students will write their own one-act play, practice it, and perform it for themselves. They'll gain experience in acting without the pressure of performing before an audience.
But that's not all! The benefits of this class extend far beyond acting experience. While devising their own drama, students learn how to:
brainstorm

use their imaginations

collaborate

solve problems

persevere

become flexible

play to their strengths

practice empathy

communicate clearly
Those are skills they'll use all day, every day in school and beyond!
Wednesday, 3rd Period (12:30 – 2:00)