Percussion Ensemble/Drumline: Now with Boomwhackers!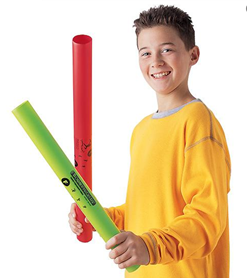 Percussion Ensemble Description - "A bunch of people banging on things."
What you will learn - How to take the art of 'banging on things' and make it entertaining to people watching while learning REAL musical skills and how to entertain audiences.
This ensemble is ideal for any student who has any previous music experience (like piano) and wants to use those skills in a fun group setting while learning new skills and then using all those skills to entertain an audience.
HOWEVER, you do NOT need to have previous music skills to be a part of this group. We will teach you what you need to know to properly play percussion instruments.
This IS an academic class, part of a complete STEAM program (A for ARTS).
Homework: Students will have some (minimal) homework as well as a requirement to spend approx. 1-2 hours practicing each week.
Prerequisites:

None
Additional Fees
SPRING SEMESTER ONLY: No additional fees, all supplies/equipment provided

All students will receive a drumline T-Shirt (uniform) to wear during performances. The initial T-Shirt will be provided at no cost (as part of the registration fee). If a replacement is required (loss/damage/etc) then the student/family will be responsible for replacement cost (approx. $15-20)
About the Instructor
Mr. Paschen has a degree in Music Composition and has served in many different music roles over the past 30+ years, including Director of Youth Instrumental Ensembles and Worship Pastor at several churches, Assistant to the Director of Bands at North High School, North St. Paul, MN, District 622 Marching Band Director, Co-Director of Strike Up The Band Marching Band, and Percussion Ensemble (and other ensembles), director for Twin Cities Home School Band.